French Stallions
French stallions have made a huge impact to sport horse breeding throughout Europe and the rest of the world, below we take a look at some of the most influential French breeding stallions and French stallions at stud.
Narcos II
As a young horse Narcos II was a star and one of the leading horses in the French showjumping young horse championships, qualifying for the finals at Fontainebleau three years running, winning as both a 5 year old and 6 year old.
Competed by French showjumper Eric Navet, Narcos II represented France at many major championships including the European championships and numerous nation cups. In 1994 he won the junior European championship gold with Florian Angot. As a breeding stallion Narcos II has produced numerous top level sport horses including Twist du Vallon (McLain Ward), Trophée du Rozel (Olivier Jouanneteau), Une des Cresles (Patrick Martin), Viking du Tillard (Hervé Godignon) to mention only a few.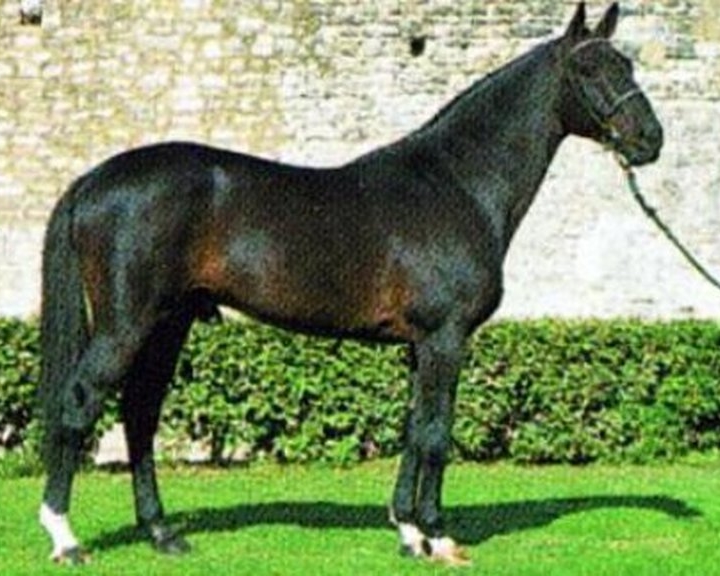 Epinard - French Thoroughbred Stallion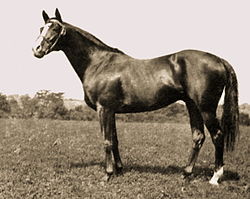 As with most modern sport horse stallions, French warmblood stallions have a generous amount of thoroughbred blood contained within there pedigree. Epinard sired by Badajoz was foaled in France, as a two year old Epinard was one of top French two year olds winning many races, his success continued throughout winning a number of prestigious races that include Prix des Coteaux, Grand Criterium, Prix de la Foret, Criterium de Maisons-Laffitte, Prix d`Ispahan, Prix du Gros Chene and the Stewards` Cup.
Arazi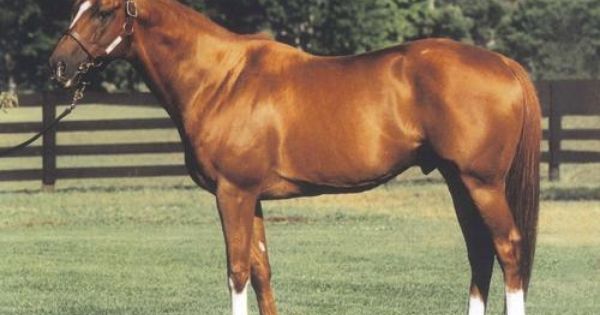 French stallions are often exported all around the world for horse racing, showjumping, dressage, eventing and other equine sports. Arazi was born in France and exported to the USA. Sired by Blushing Groom out of the mare Danseur Fabuleux who is a daughter of Northern Dancer. Over his career Arazi won over $1,213,307
Ol Metta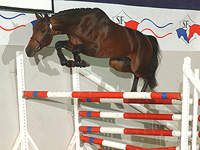 Ol Metta is sired by selle francais showjumping stallion Flipper d`Elle, a French state stallion, Flipper d`Elle was one of the worlds leading competition sires and won all world at the worlds top showjumping events with showjumper Laurent Goffinet. Ol Metta dam Daphne Paluelle was a mare with proven record as a performance sport horse.
Galcador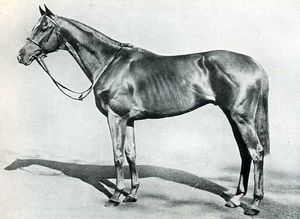 A French racing stallion Galcador took part in four races winning three, including the prestigious Epsom Derby. Galcador would spend 8 years standing at stud in France, before being exported to Japan to stand at stud.
Quattro B
- Quattro is a son of the Selle Francais stallion Qredo de Paulstra, winner of the Grand Prix of Bordeaux. Qredo is sired by the legendary Galoubet, which two times won World Cup Qualifiers and produced International jumpers and sport horses.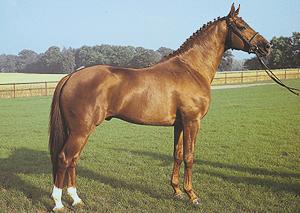 J` T`Adore - Stallion
- J' T'Adore competed in the Los Angeles Olympics and was a regular mamber of the French Nations Cup team for a number of years. By 1994 he had won over £40,000. His many successes include finalist in the Volvo World Cup in Vienna, 2nd in the Grand Prix at Hickstead and many other major showjumping classes around the world.
Le Tot de Semilly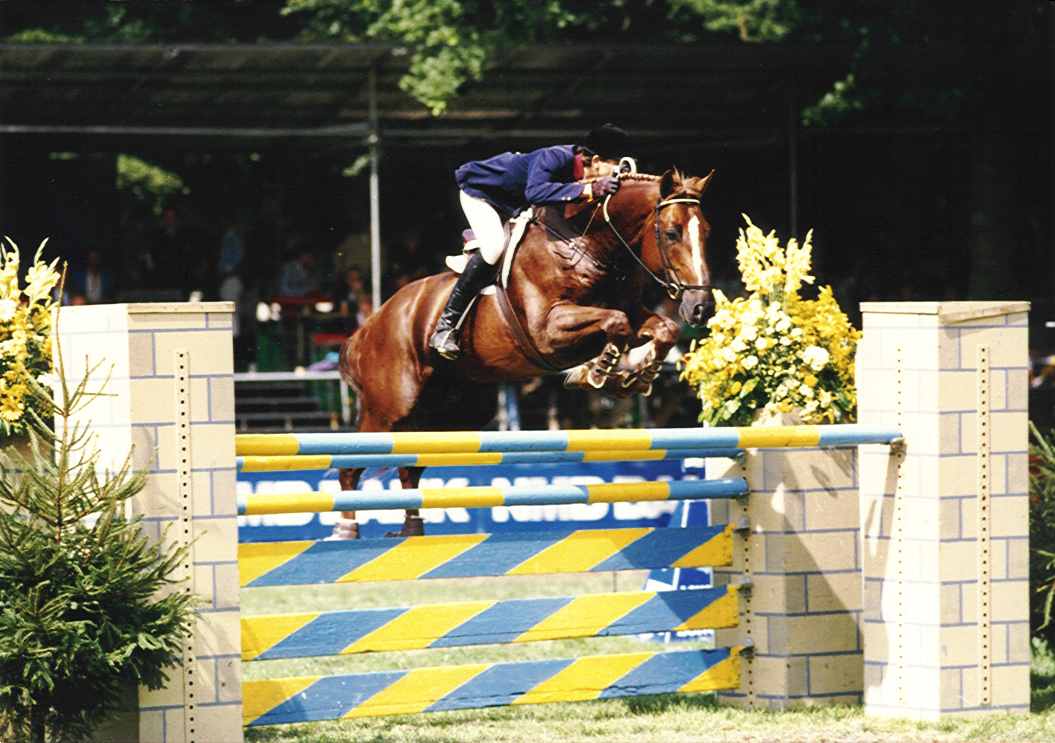 Andretti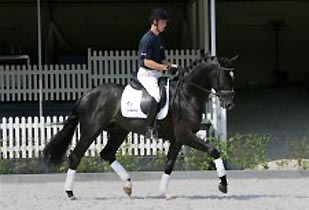 His dam, Ushi, has Hanoverian origins, and his sire, Spécial D is currently competing with Diederick van Silfhout. Ushi's sire is Sandro Hit. Andretti received the following scores in the 2008 stallion tests: Walk 7.0 Trot 8.5 Gallop 8.5 Flexibility 8.0 General Attitude and Balance 8.0 Rhythm and Lightness 8.0 Presentation under the saddle 8.0 For a total of 80 points In movement, Andretti has a good attitude, balance, and flexibility. His trot is remarkable, and his gallop displays his excellent engagement, power, and breadth.
Dalakhani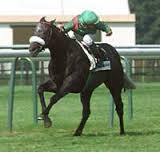 Alligator Fontaine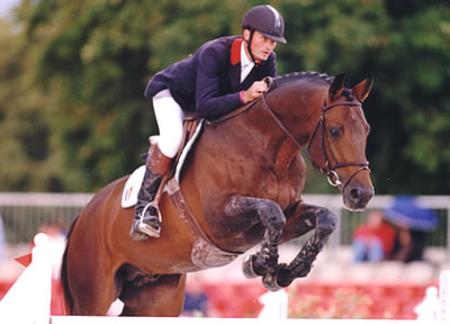 Apple De River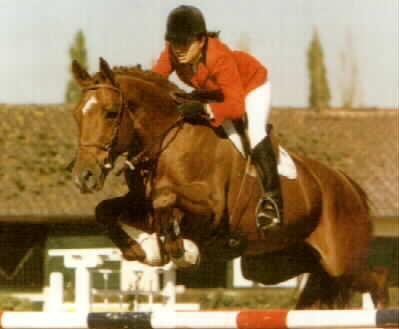 Apple De River had 7 victories and 1 placing at the age of 6 years including being finalist at Fontainebleau, member of the junior French team, youngest International performing stallion in Europe, participating at CSI in Eindhoven, Relms and London. At 7 years, he performed internationally with Alexandra Ledermann: CSI de Walkenswaard, CSI Dinard placed 4th of the 7 year old stallions championships, 9th ex of the 7 year old horse championships.
His sire Narcos II placed top of the list of the living stallions fathers of winners. Producing numerous winners such as D'Elle, Star Lorraine, Twist Du Vallon, Tanagra De Villier and Viking Du Tillard. His dam Ovnie De Revel has also produced Ufo De River ISO117, Voyager De River, who was sold for a record price at the fences auction in 1990 and Fenix De River, exported to Brazil as a future stallion. He started his stud career in 1994. His first foals are chic, energetic with a very strong top line, nice movement and beautiful heads.
Bois Roussel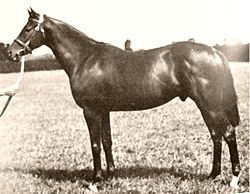 Bolero De Brecey
(1989)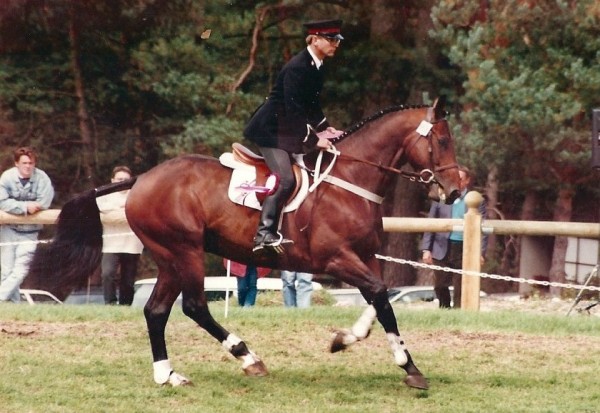 Vice-European Champion and Junior Champion of France in 1999 the second category under the saddle of Nicolas Delmotte, this standard transmits powerful strength and balance. Sev of its products Hyencourt THE BIG ISO 165, OF KANGXI CANDAS Winner CSI abroad are derived from Anglo-Arab mother THE BOARD CROSS Mares in the blood, with the scope, the exchange will give his great qualities.