Horses For Sale
High Offley Stud always have a selection of quality sports horses for sale for show jumping, dressage & eventing. Here at High Offley we have initiated a breeding program using proven competition mares and stallions to produce an impressive range of young horses for sale. With bloodlines including It's the Business, Jasper, Sultan, Darco, Ramiro, Le Mexico, Handel, Wolfgang, Saluut, Zandor Z, Nimmerdor, Zeus, Joost, Libero H, Landgraf, Sandro Z, Athlet Z, Furioso II and many others our home bred sports horses are bred to compete in any sphere of equestrianism.
Coloured Foals & Young Horses For Sale
High Offley Fernando is a coloured stallion with a jumping record up to 1.40m and has an excellent jumping pedigree, sired by the legendary stallion Kannan. As a sire High Offley Fernando has been used on many of High Offley Studs leading broodmares and has produced numerous coloured progeny, we have a selection of these progeny for sale from foals through to four year olds ready to compete.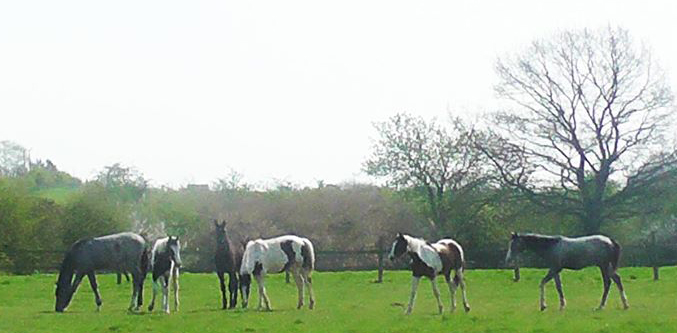 High Offley Endeavour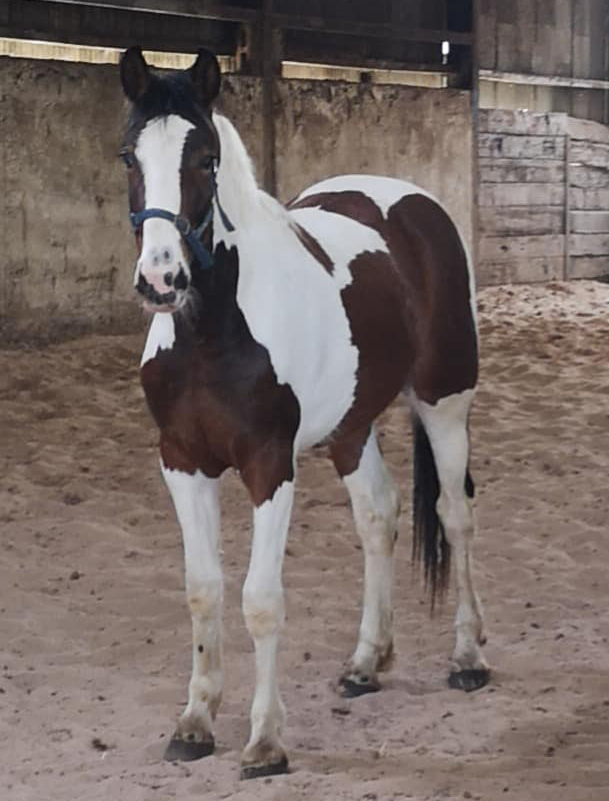 3 Year Old Coloured Colt - High Offley Fernando x Animo
A coloured colt with an impressive showjumping competition pedigree that includes, Kannan, Animo, Voltaire, Nimmerdor, Alme and many others. Sire High Offley Fernando competes in 1.30m / 1.40m competitions with lots of scope and a proven winner. High Offley Endeavour is a lovely 3 year old colt with a careful jumping technique and an excellent temperament and is an outstanding stallion prospect for the future.

15.2hh Strawberry Roan
Seven year old mare sired by Sunnora Son, real fun horse ideal for young rider to enjoy and compete in any equestrian sphere.
High Offley Bohemian Legend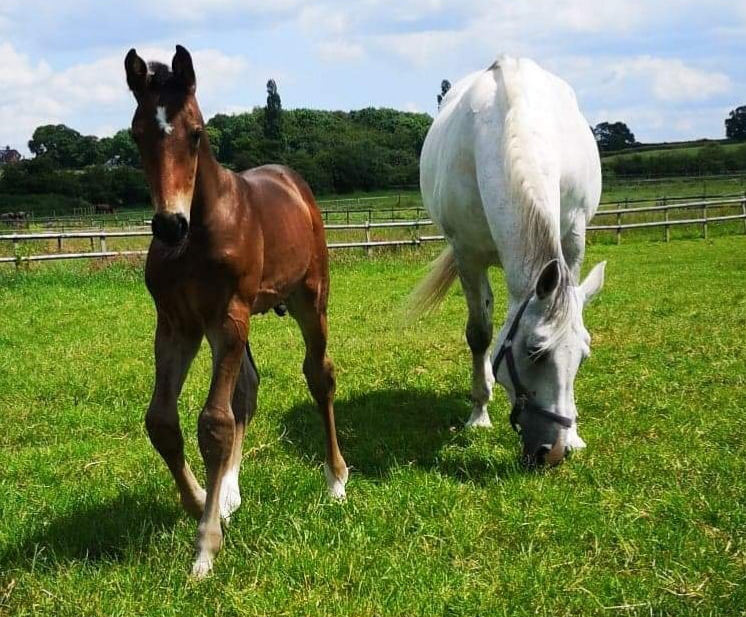 Colt Foal - Ashdale Legend x Crocodile Dundy Z
Sired by the exciting young horse Ashdale Legend (Luidam x Lux Z) out of the successful jumping mare Le Croc who is the daughter of our own Crocodile Dundy Z. Ashdale Legend is only a young stallion but last year was well placed in numerous five year old championship finals and looks like an exciting stallion for the future.

High Offley Fernando De Reve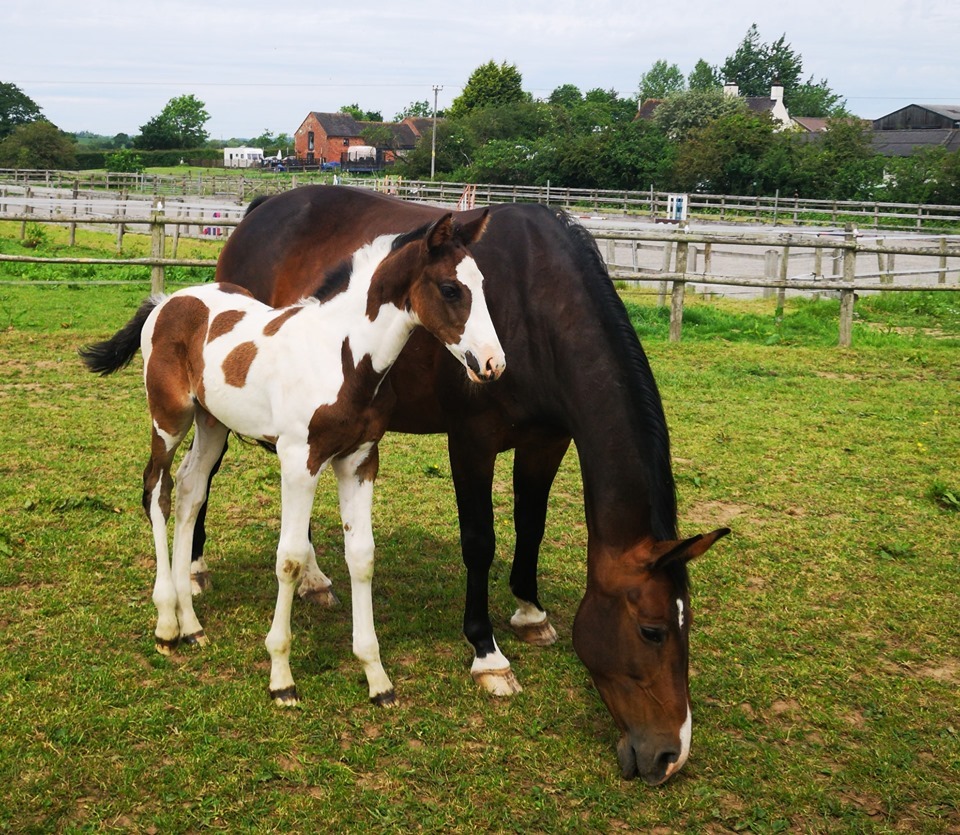 Coloured Colt Foal - High Offley Fernando De Reve is a son of our own High Offley Fernando (Kannan x Samber), his motherline includes the great Nabab de Reve and Action Breaker. Fernando De Reve must possess one of the best pedigree`s seen in a coloured sport horse.

Horses Sold
High Offley Fleur - Jumping Internationally with Chad Fellows
- Bred at High Offley Stud, Fleur is a genuine mare with a great temperament and excellent jumping ability, as a young horse Fleur showed lots of promise with many excellent results including a placing in the British Novice Final with local rider Sam Wall. as an 8 year old Fleur was sold to Chad Fellows who continued her education jumping larger classes including AIT`s and competing internationally, making her mark in some highly competitive fields.
High Offley Fleur is a combination of two of our successful bloodline, sired by Arturo 8 while the mother Claire is by Sunnora Son.
Arturo`s Catch
- Arturo`s Catch was bred at High Offley Stud and includes some of the finest showjumping bloodlines with both mother and farther jumping internationally, sire Arturo 8 bred many excellent sport horses, while dam Catchas Catch Can represented the United Kingdom in Nation Cups.
Arturo`s Catch has gone on to a spectacular jumping carrier, competing in grand prix classes on the international jumping circuit.
See below a video of Arturo`s Catch in action
Arturo 9
- Arturo 9 is a graded stallion and an exciting showjumping horse, with a tremendously flashy scopey jump and good head he is quickly progressed up the classes. As a 5 year old he Arturo 9 was sent to Robert Bevis where he was competed on the county circuit. Arturo 9 was placed in the 5 year old championship at the BSJA festival of show jumping. Arturo 9 was quickly spotted by leading riders and attracted lots of interest, he was sold as a 6 year old and was competed by olympic showjumper Laura Kraut, he is now jumping internationally.
See below a video of Arturo 9 in action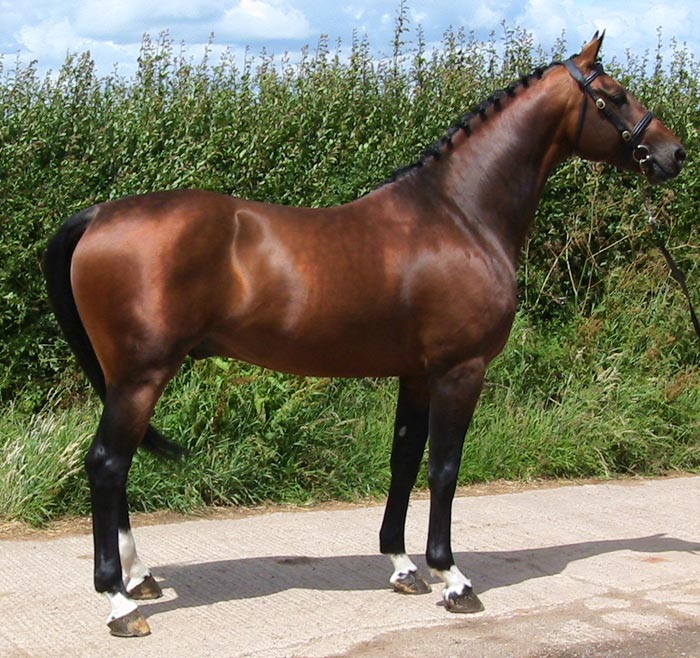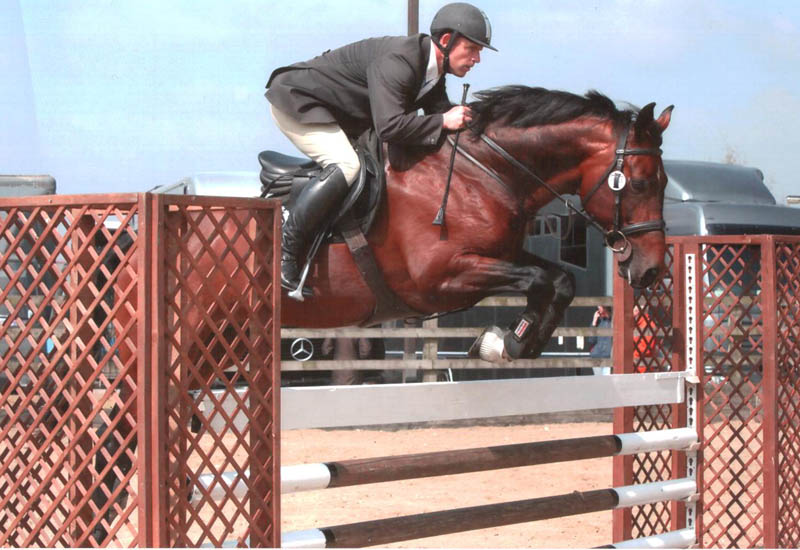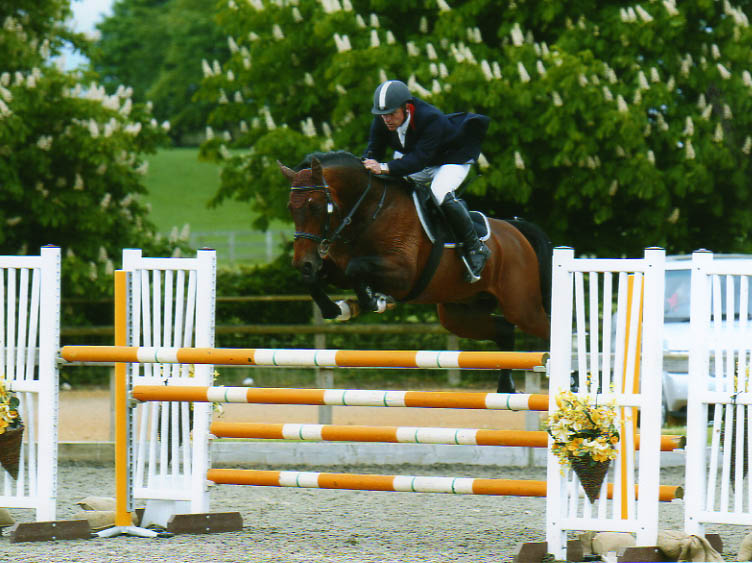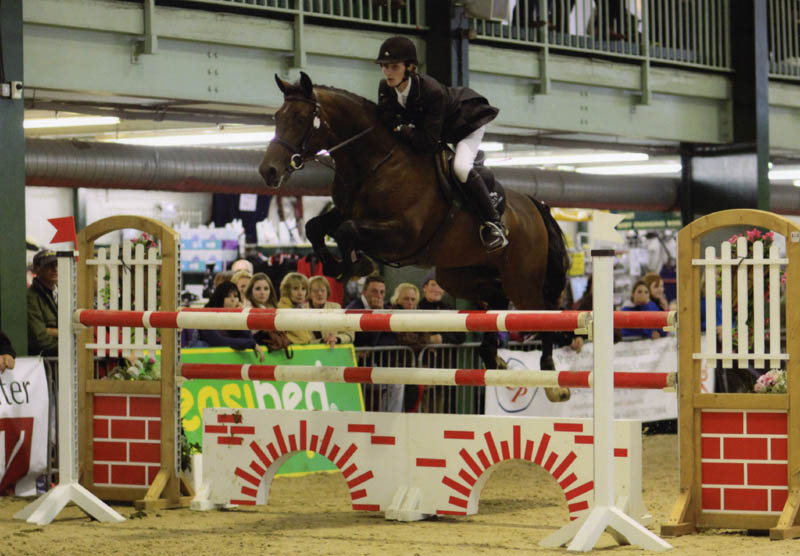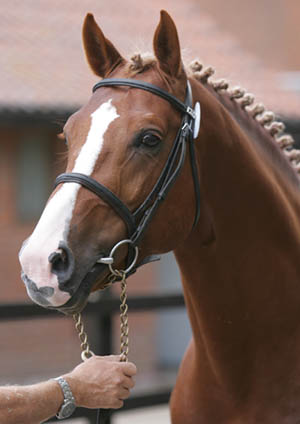 Bohemian Business - Approved Stallion Sold
- Bohemian Business is an approved stallion bred at High Offley Stud sired by AES elite stallion Its the Business winner of over £30,000 in a career that was cut short through injury. Its the business was a proven sire of competition horses with offspring that included, Sunnora Son, Exander, What a Business, Back in Business, little business and many others.
The dam of Bohemian Business is La Bohem, who is the daughter of Sultan (sire of Its Otto). La Bohem competed internationally and also bred another graded stallion Arturo 9. Bohemian Business was successful in the jumping arena jumping in open competitions with young riders Jake Elliot, Louise Saywell and Mathew Sampson.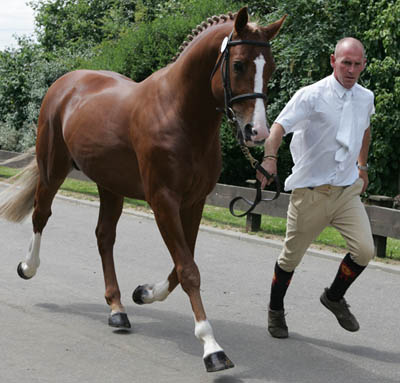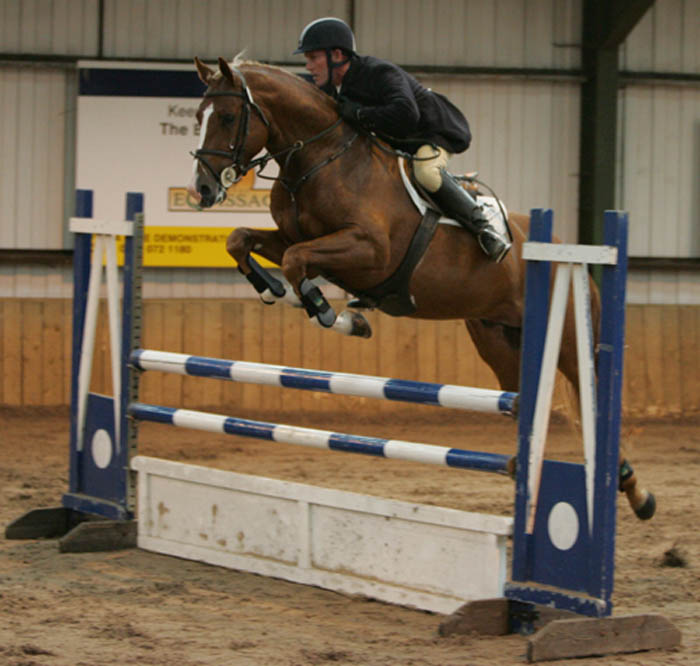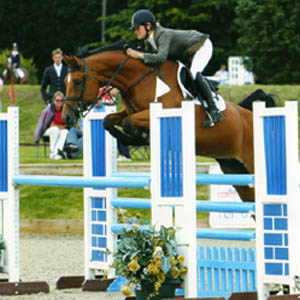 Miss Arko - Showjumping Mare
- Miss Arko is a mare with one of the most impressive pedigree`s available, she is one of the earliest foals from the great Arko II who along with Nick Skelton represented team GB at the Beijing Olympics. Arko and Nick where amongst on of the best show jumping combinations in the world, regularly in the top 5 horses in the world for prolonged periods of time. The mother line of Arko II is Mosaic a mare who also was jumped in the international jumping arena, along with Miss Arko, Mosaic has gone on to produce some fantastic sport horses.
Miss Arko was a talented young horse, jumped by Emma Shaw Miss Arko quickly moved up to Newcomers, As a five year old she qualified for the final at the Scope show jumping Festival, she was later placed 8th at addington in the British young horse championships. She continued to jump successfully before producing two outstanding offspring, first was High Offley Bugs Bunny, using embryo transfer she was bred to Frou Frou D`anchin, she later was put to Sunnora Son producing the stunning mare Summer. Later that year Miss Arko was sold to an Irish breeder looking for foundation mares to begin his own breeding program, we still here regularly about her progeny and how they are progressing.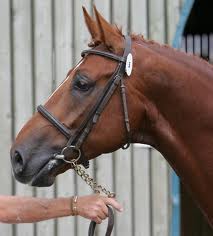 Zip Z - Eventing Horse
- Zip Z was purchased by High Offley Stud as a foal from the Zangersheide auction that takes place at the world breeding championships. Sire Zandor Z was highly successful as a showjumper, competed by Jos Lansink he had many great results including winning the sires of the world. Dam of Zip Z is a combination of Purioso and Nimmerdor two bloodlines that are so popular on the continent.
Zip Z was broken by High Offley Stud and we started his jumping career, he was showing lots of promise when a previous customer came looking for a another horse to event purchased him, he has gone from strength to strength and is doing very well as an eventer.
Zizitop - For Sale

Quality 16.1hh chestnut gelding, 7 years old, Three excellent paces. Sire Berlin (Cassini) mother TT (Espri). BS winnings, jumping Newcomers / Foxhunter. won newcomers last time out. Very brave, jumps water, ditches. Plenty of scope, good to hack, shoe, box and clip. Would make 1.30m / 1.40m horse. For sale on behalf of clients, would suit any job, not strong to ride. Phone 07811 329229

Posted by High Offley Stud on Sunday, 11 October 2015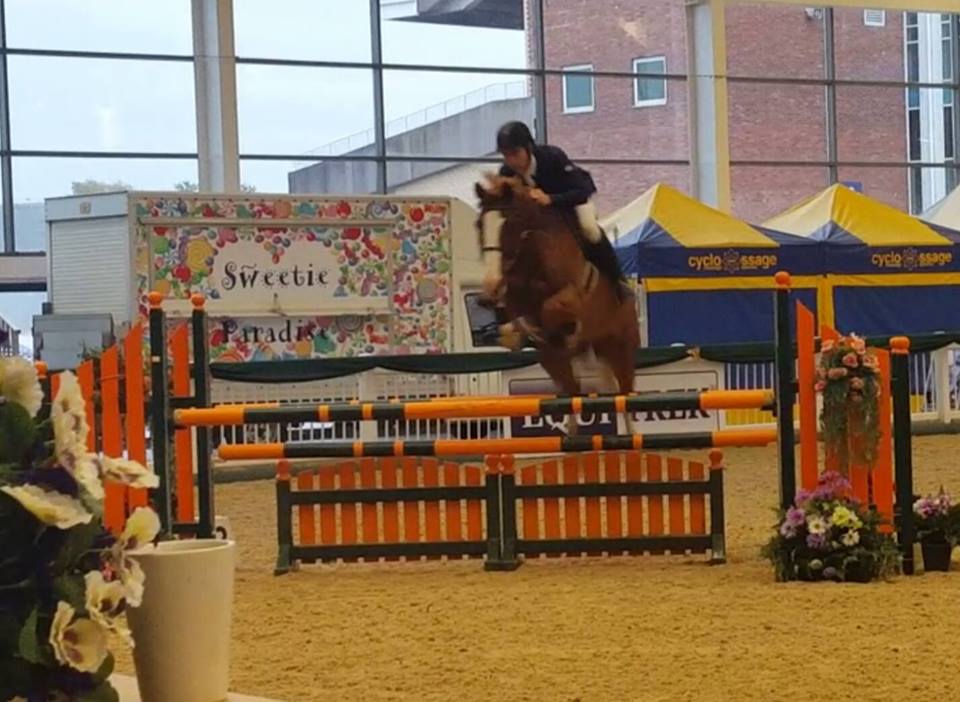 Showjumping horse for sale
Quality 16.1hh chestnut gelding, 7 years old, Three excellent paces. Sire Berlin (Cassini) mother TT (Espri). BS winnings, jumping Newcomers / Foxhunter. won newcomers last time out. Very brave, jumps water, ditches. Plenty of scope, good to hack, shoe, box and clip. Would make 1.30m / 1.40m horse. For sale on behalf of clients, would suit any job, not strong to ride. Phone 07811 329229
We always have a large range of well home bred young horses for sale. please get in touch to discuss your needs.
Irish x French Sport Horse For Sale
By Frou Frou D'anchin, bay mare, 16.1hh. Backed as a three year old and put in foal (can be seen). Now 4 year old, foal has been weaned and riding out, hacking on her own, just started schooling, jumping a cross pole and showing good technique, middleweight blanc canvas, for anyone, she loves work. - £4,250 ono
15.1 hh strawberry roan gelding (Sold)
3 rising 4 good to catch, box, hacks out alone and in company. Just started schooling in menage, excellent temperment ready to make excellent allrounder, on For sale onbehalf of client, Fresion x.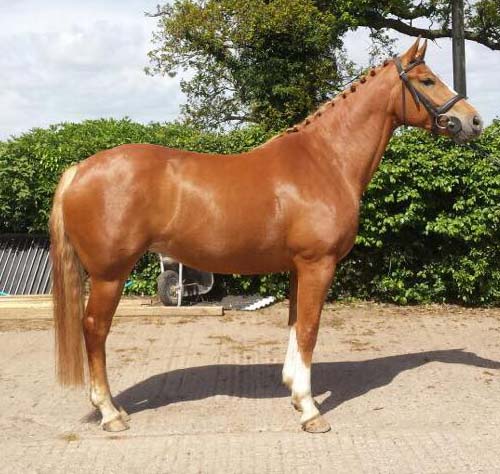 High offley Summer,For Sale
- Sunnora Son x Arko III - SOLD
One for the future. 4 year old full up 16hh mare. Professionally broken this year and showing a great positive attitude towards work. Three excellent paces with straight correct movement. Clean legged.
Mother is by ARKO and her sire is the well known sunnoras son who's by it's the business. Fully pink papered she is currently being loose d jumped and proving to have plenty of scope.
She is just starting with cross poles under saddle and is hacking out alone and in company a complete blank canvas for somebody to take All the way.
Price: £3,950

Please call 07811 329229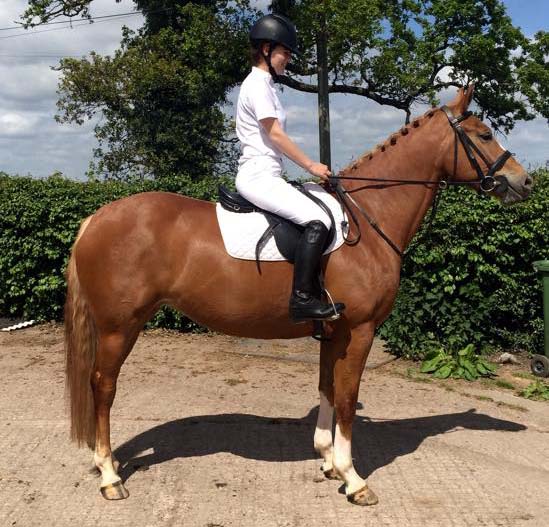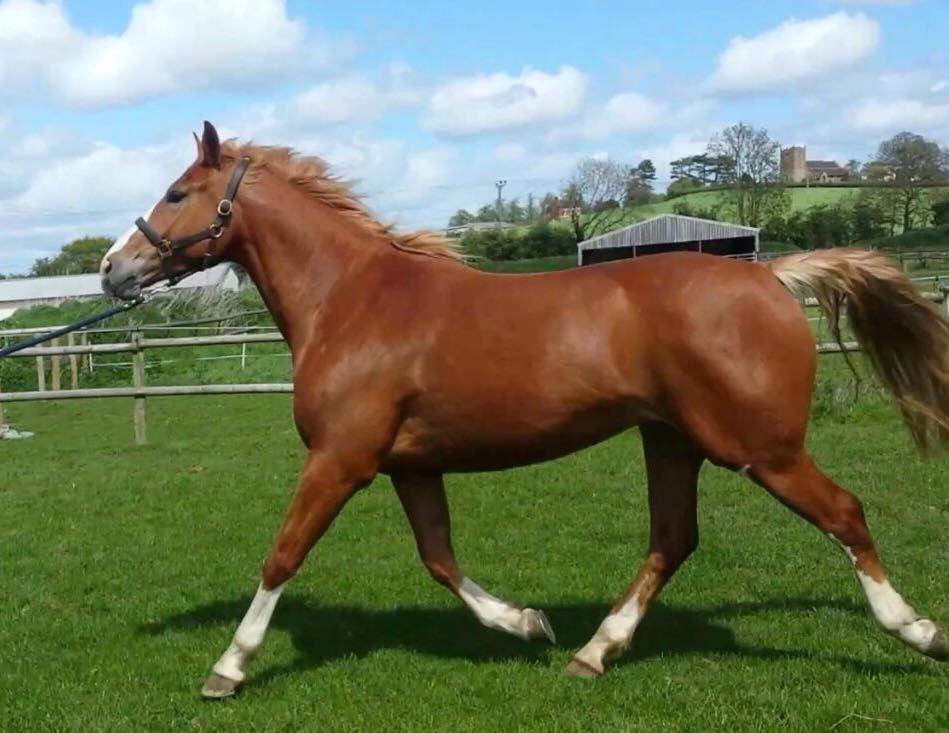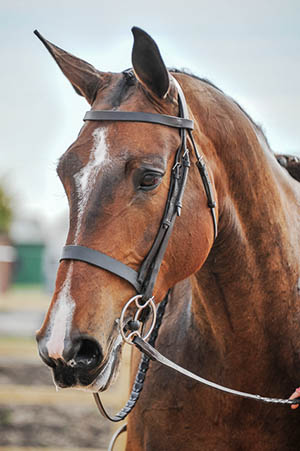 High Offley Arturo`s Whisker
- The Ultimate Allrounder - Sold
16.3hh 9 year old AES registered home bred mare (Pink Papers) with great bloodlines (Arturo 8, Sunnoran Son, Its The Business, Sandros Whisker, Sandro Z).

Perfect for amateur or novice, easy in every way has competed affiliated showjumping, genuine over a fence. Previously qualified royal international ridden hunter, has been over cross country fences and hunted, able to stand around on the hunting field as well as jumping the bigger fences. Has bred a beautiful grey foal that can be seen. Good to box, shoe and in traffic would make someone a wonderful horse to enjoy, good home important for this cracking mare, open to vetting please phone: 07811 329 229.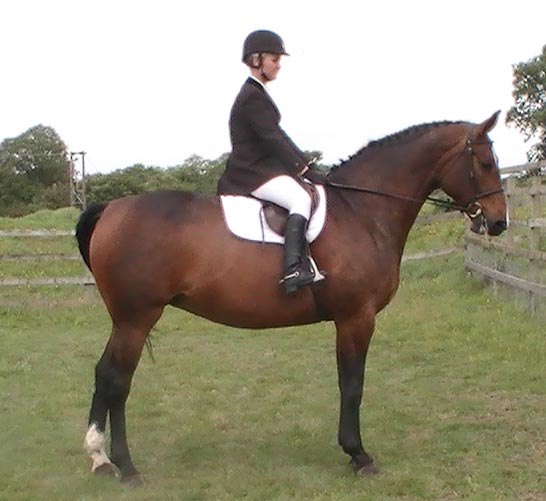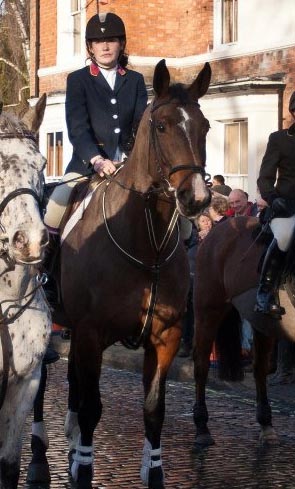 High Offley Sydney - sold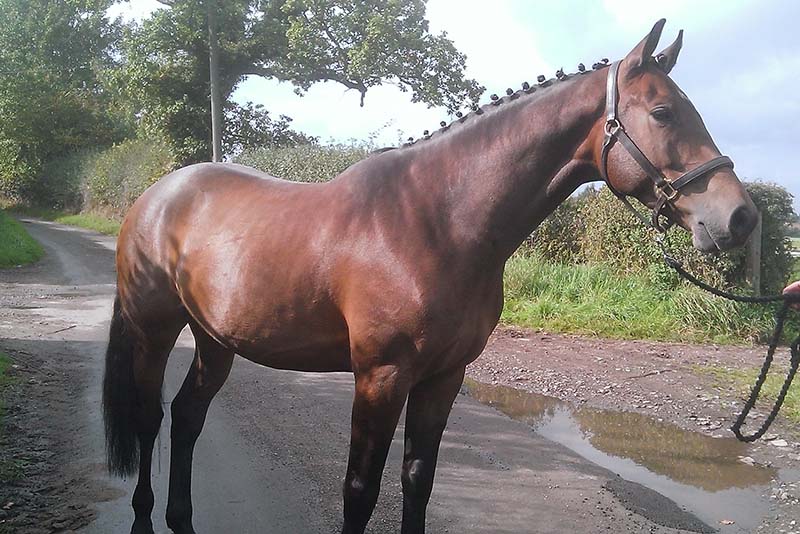 Sydney is a 16.1hh, 5 year old smart bay gelding and talented sport horse, ready to start his career in any sphere, with 3 excellent paces he is brave jumping and just started competing affiliated, an easy ride with a snaffle mouth, good in traffic and good to clip, box or shoe, is showing lots of promise in all disciplines. Registered AES with excellent bloodlines sired by Lasino out of a Capital I x Caletto I mare.
£8,000
Blue - Connemara Cross 14.1h Blue and White 7 Year Old Gelding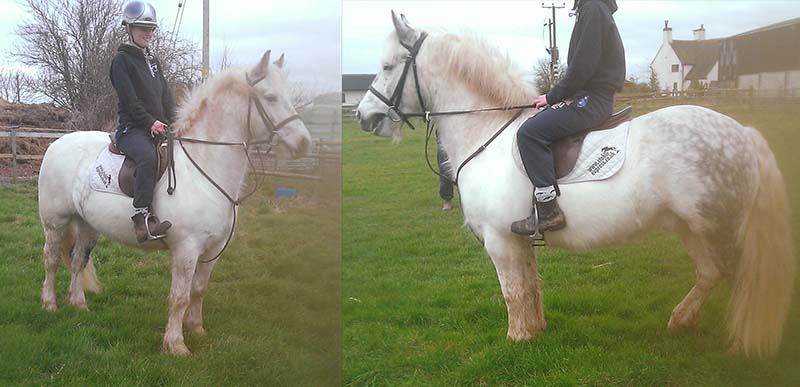 Ride and drive, bomb proof in traffic, can jump small course, ideal pony for mother and daughter to share, easy pony to manage good to do everything with, box, shoe and clip, drives as well as it rides.
£2,950
Dundee`s Lady
16hh Chestnut mare, 8 year old umping foxhunter / 1.30m competitions, winner of Adventurer championship at the Scope Festival of showjumping. Super talented mare ideal ladies / young rider`s horse. Home bred, sired by Crocodile Dundy Z (Carthago Z)
phone: 07811 329 229
High Offley Arturo`s Renaissance - SOLD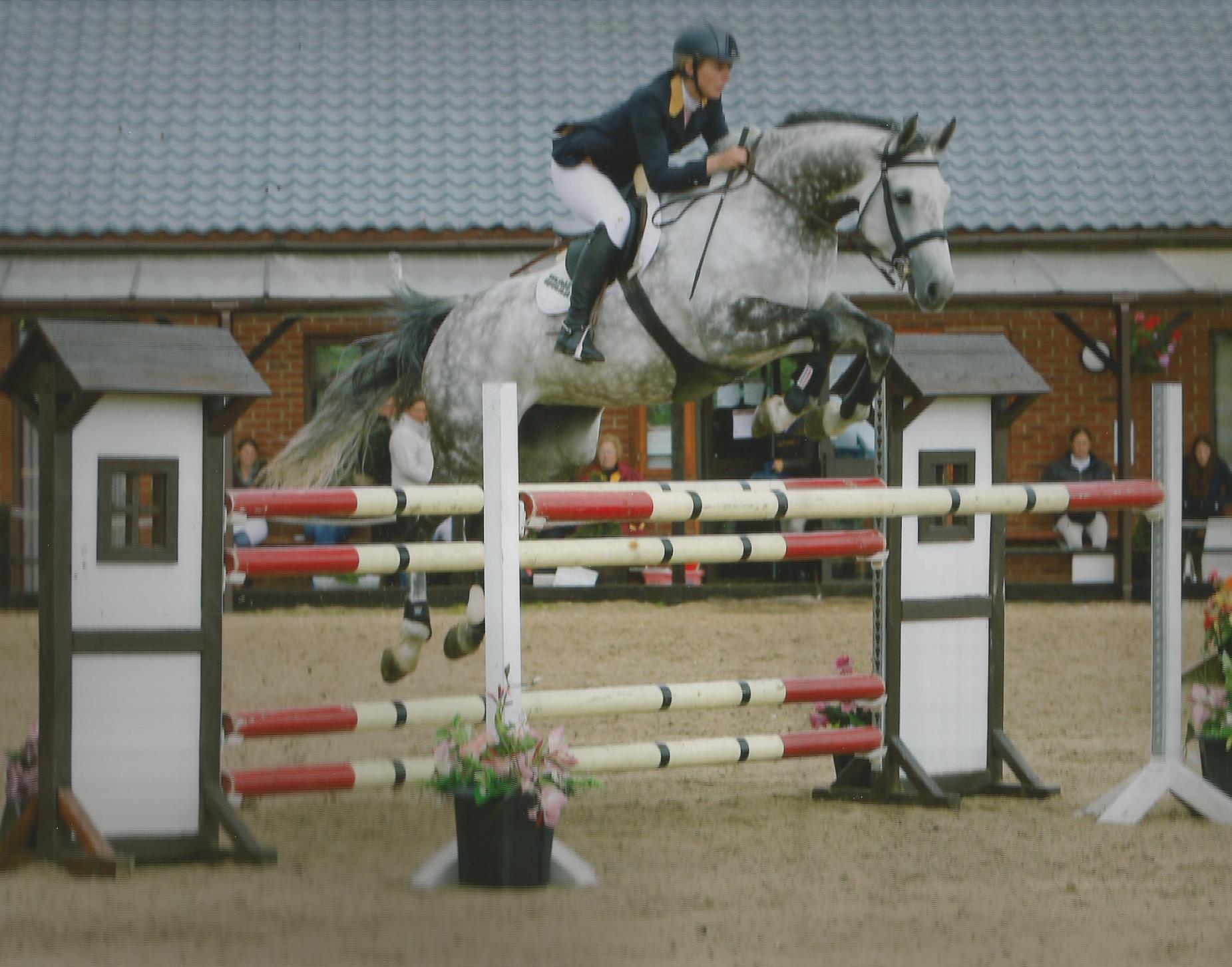 16.2hh AES registered out of two international parents, 9 year old grey mare jumping foxhunter / 1.30m. Double clears and qualified Foxhunter second round, also qualified Blue chip karma for next year,3 excellent paces, home bred been in same home since a foal. Good to box and in traffic, would make top working hunter.

BSJA winnings £1234, 610 points, must go to good home
phone: 07811 329 229

Watch a recent video of Arturo`s Renaissance



SOLD - Arturo Renaissance goes to Scotland to be ridden by Caroline Orr, we wish every success and hope to see many ribbons for this partnership going forward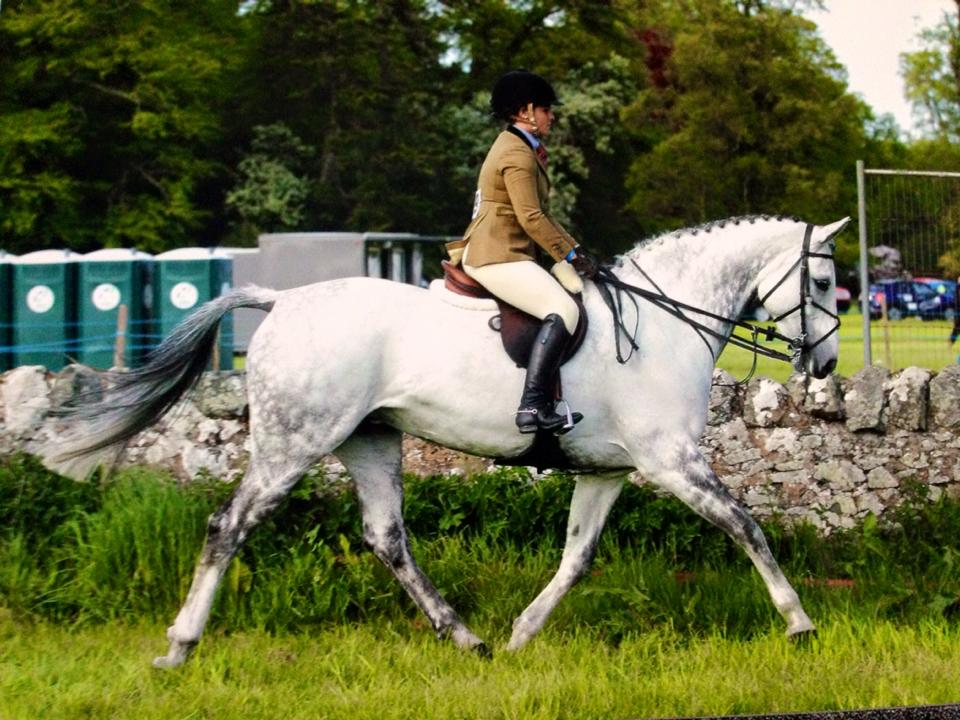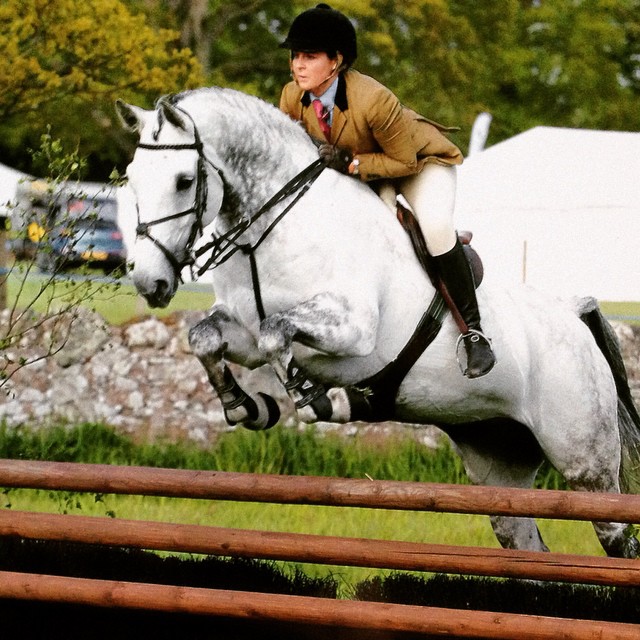 New rider Caroline Orr riding Arturo`s Renaissance


Hunter For Sale
Bold brave 17hh hunter, chestnut gelding with a very scopey jump. Jumps everything :- ditches dikes gates or hedges. hacks alone and in company. good to box shoe very genuine horse, breeding includes greeton du rezidal, sunnora son and its the business.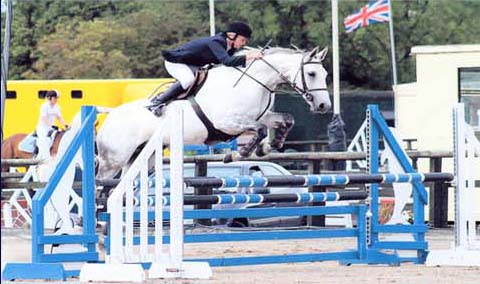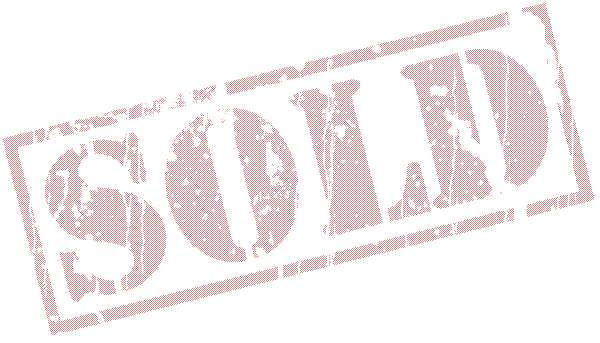 Eighteen - Performance Horse For Sale
Would excel in any equestrian sphere showjumping, dressage or eventing currently competing at Newcomers level an exciting performance horse for both an amateur or professional rider phone: 07811 329 229 and arrange a viewing .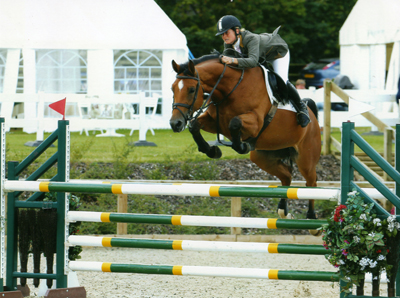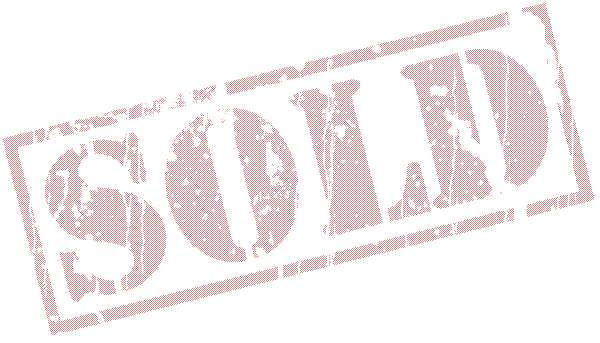 Miss Arko
2002 Arko II x Mosaik, 16.2hh Bay Mare
Miss Arko is by Nick Skelton's olympic show jumping stallion Arko II she is a stunning looking mare who has the potential to jump at the highest level in show jumping

You will be hard pushed to find a mare of this caliber anywhere either in the UK or Europe
---
Eventer's For Sale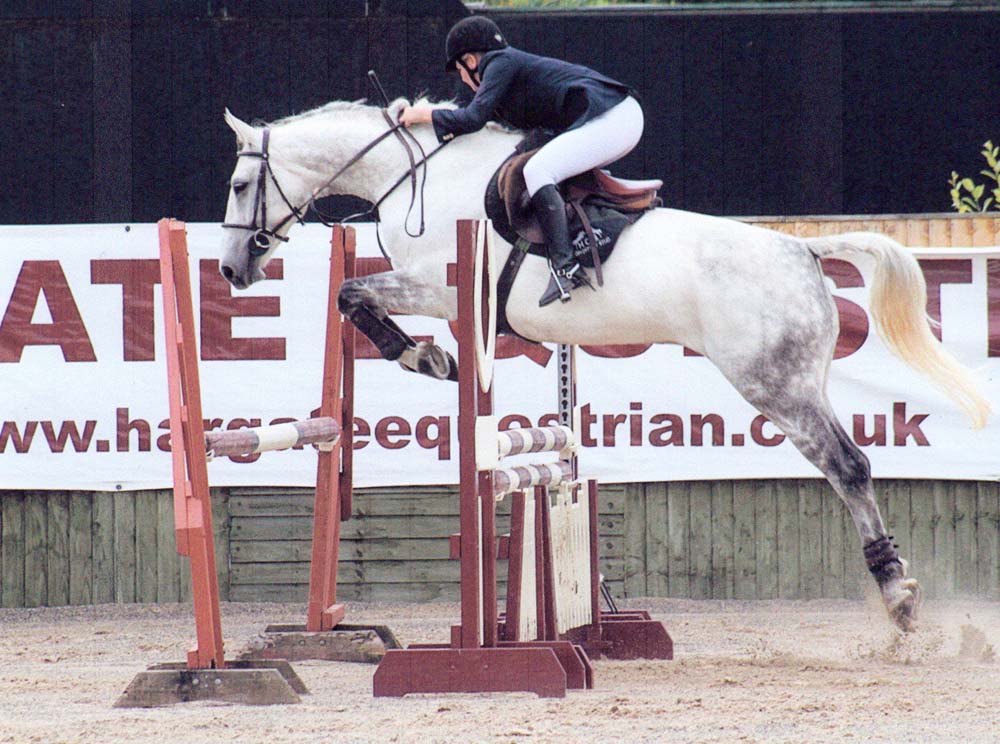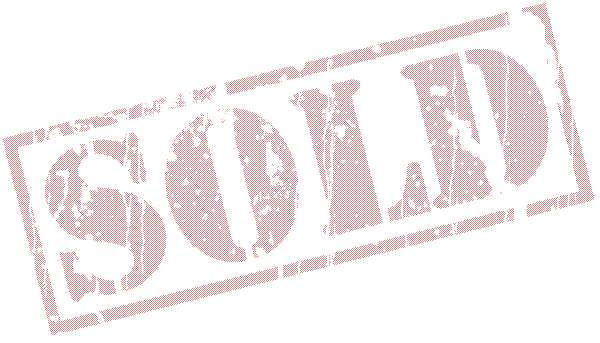 Eighteen
Combining leading show jumping & dressage blood lines Eighteen is a very exciting young horse who could excel in any equestrian sphere, she is regularly jumping double clears at BSJA as well as winning at affiliated dressage shows
Dressage Horses For Sale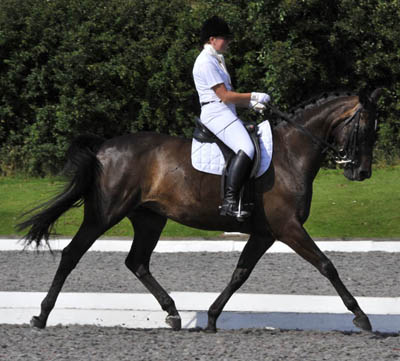 High Offley Sienna 1999 – Reg and branded Danish warmblood.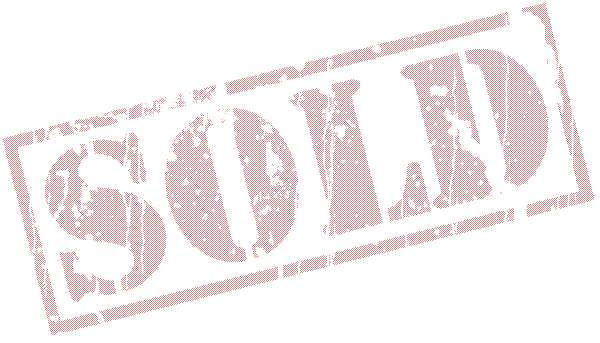 Sire Milan (top dressage stallion)
Dam Stenbragardens Lefa ( from dressage lines)
This stunning mare was imported last year and in very few outings has 58 affiliated dressage points. This is a star in the making, she has qualified for the Beaver Hall championship and summer prelim. This beautiful mare has excellent paces and has never been out of the first three in competition. (Videos and pictures available) this mare was used as a brood mare until the age of 6and so is a late starter. This mare is fully vetted and ready to go on and is a real head turner.
---
Horses Sold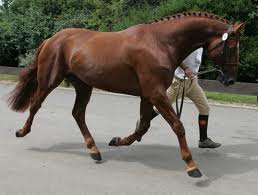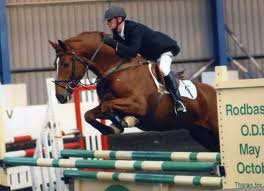 Crocodile Catchas
- Sired by Crocodile Dundy Z out of the nation cup mare Catchas Catch Can, Crocodile Catchas a beautiful chestnut mare bred to reach the top in the world of showjumping. With an athletic jump and good temperament Crocodile Catchas has competed by in the show jumping arena as well as doing well in cross country events.
Excellent Fun Horse Sale - Its Anika
Its Anika by international grade A stallion it's the Business out of a grade B mare. Perfect for someone coming off ponies. Easy ride plenty of scope, good technique, BSJA winnings very competitive 9 year old. Excellent Temperament good box, show, clip and in traffic. Can be seen in livery at High Offley Stud for sale on behalf of a client must go to a good home contact Pat: 07811 329 229

Crocodile Catchas - Crocodile Dundy Z x Catchas Catch Can
Born 21/5/2007 just broken and going well, a truly talented horse with the ability to excel in any equestrian sport. Dam: Catchas Catch Can was jumped by Sharon Wilde internationally she won many classes on the county circuit including 2 Daewoo Grand prix's Sharon Wilde also represented England with Catchas Catch Can in a nations cup.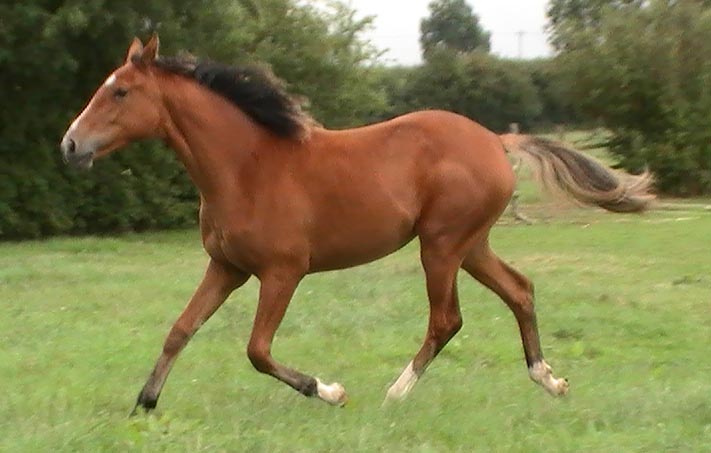 High Offley Magic - Talented young horse out of Burgraaf jumping mare, Latrichta