Competition Livery
If you have a showjumper or dressage horse you think has the potential to be successfully High Offley Stud could help you produce the best from your horse.
High Offley Stud have both show jumping and dressage riders which helps complement each discipline, this also allows us to find the wright job for the horse.
High Offley Stud have had horses compete at the highest level and won championships at the horse of the year show, festival of show jumping, spanish sunshine tour and many other top shows boths in the UK aswell as Europe
If you ant any further information High Offley Stud
High Offley Stud, Peggs Lane, High Offley, Stafford, ST20 0NG
Telephone: 01785 284975, 01785 284099, 07811 329229 Email:Highoffleystud@yahoo.co.uk
we will be happy to help you with your needs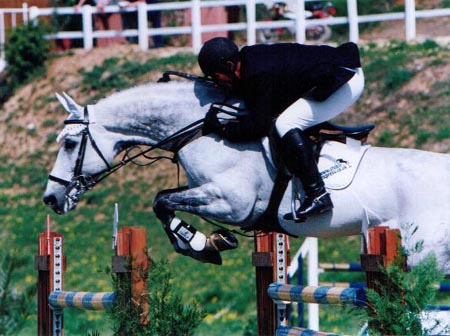 Breeding Stallions
High Offley Stud has a selection of top quality breeding stallions to choose from Froufrou D'anchin, Sunnora's Sun, Arturo 9 and Crocodile Dundy Z. All High Offley Stud stallions have excellent breeding and characteristics to excel as a sports horse in a variety of different spheres whether it be show jumping, dressage or eventing. Using our stallions could help you produce quality young stock for the future.