Horse Showing
High Offley Stud have a long history of horse showing representing our own horses as well as horses from clients, from brood mares with foals at foot to working hunter competitions High Offley Stud have an excellent show record. High Offley Stud horses are bred for the show ring, using well-structured brood mares with excellent conformation and breeding them to other excellent stallions we ensure foals and young horses of the highest quality for a number of different show classes.
Horse Showing – Stallions At Stud
Fernando
- A coloured stallion with an excellent pedigree Fernando was shown as a youngster winning sport horse classes on the county horse showing circuit as a two and three year old, he is now competing in showjumping, currently jumping Newcomers as a five year old. His pedigree is exceptional sired by one of the leading sires of showjumping stallions in the world Kannan. The mother of Fernando is sired by the great Samber, the first coloured stallion to ever be graded by the KWPN stud book, his progeny have created a dynasty of coloured sport horses all around Europe and the world, progeny of Samber have excelled in the showing arena, showjumping, eventing and dressage.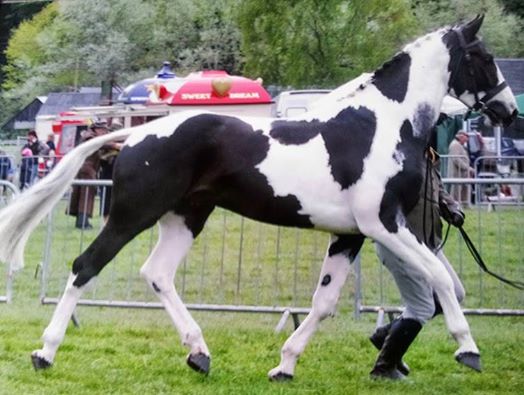 Horse Showing – Ridden Hunter
Our Horses are especially well suited for ridden hunter competitions where High Offley horses have been well placed over the years, one such horse is High Offley Arturos Whisker who competed with a great deal of success and qualified for the final at the Royal International. Another horse to compete in the show ring in ridden hunter competitions is Stableexpress Lugano, who competed in the showing arena after a successful showjumping career.
Working Hunters – Horse Showing
We use stallions who have competed at the highest levels of showjumping, which means many of our horses have good jumping techniques, this along with exceptional movement and conformation makes our horses ideal for working hunter, this has been noted by many of the nation's top producers of working hunters.
Show Horses For Sale
- If you are looking for horse for the show ring High Offley Stud is here to help you in your search, contact us today and come and visit and see what horses we have available for you.
The British Show Horse Association
The British show horse association promotes horse showing throughout the UK covering the whole host of horse breed types and breeds, including cobs, hacks and riding horses.
Part of the remit for the British show horse association promotes the breeding of show horses as well as holding affiliated BSHA classes at events around the UK including many held at some of the nations top county shows.
The BSHA have events for riders of all ages and levels from the lead rain competitions to amateur classes up to events for the professional show rider.
Showing – Royal Windsor Horse Show
The Royal Windsor horse show is one of the major events in the equestrian calendar, during this festival of all things equine there are more than 100 showing classes, that attracts some of the country's leading producers of show horses.
Showing Classes
Show Hunter Classes
Show hunters is a class for horses that would be suited for the hunting field, there are three categorizes for show hunters for the different weight, the first is for light weight show hunters, these need to have a elegant quality with exceptional movement and passes, many show judges like to see some blood in the horse so many producers use horses with thoroughbred bloodlines, although they need to be of high quality they will still need to show a workman like quality as the class is designed for hunting horses. The must be well schooled and not heavy to ride, giving comfort to the rider. Typically a lightweight ridden hunter is suited for ladies so many will compete in multiple show classes, including lady hunter classes and side saddle competitions. They need to have around eight inches of bone, if any great the horse may be better suited for the middleweight hunter competitions. For Middle weight horses, many of the same attributes are looked for but because of the extra substance required many producers use warmblood horses with less blood, this type of horse is often easier to train than thoroughbred horses and give the extra bone that is required. The heavy weight horse again is a larger horse, with Irish bloodlines well suited.
Ladies Hunter – Show Horses
- With a selection of show horses ideally suited for ladies, we have excellent horses available for ladies competing in show hunter competitions.
Veteran Horse Showing
- Horse showing is well suited to older horses, and many sport horses retire to the show arena after a successful competition career in the sports of eventing, dressage, showjumping or even racing. The BHSA and BHS have created a number of classes for veteran horses allowing you to continue to compete your show horse even after they are past their prime.
Sport Horse Showing – Brood Mares / Foal at Foot
High Offley Stud have a long history of breeding sport horses with some of the UK`s top brood mares, on occasion if we think a foal is particular impressive we will compete of the county show circuit with the mare and foal showing them off, over the years we have had a great deal of success winning supreme championships and championships at many of the nation's top county shows.
We also do enjoy showing these in young horse classes as they grow, again on many occasions the judges agree with our assessment and we are rewarded with good placements in the line ups.
Horse of the Year Show (HOYS) – Showing
HOYS is the dream of many in the horse showing world with amateur`s and professional chasing horse of the year qualifying classes all over the United Kingdom.